Spring Fling
The Slush Cup is Back!
Cost:
Accepting donations to Epic Promise Employee Foundation
Registration:
Only for the Slush Cup. Located at Guest Services window.
Join us for the biggest spring party of the season! Slush Cup competition, music, s'mores, games and prizes, and more!
Join In All The Fun
Activations Through the Day
Slush Cup - 11am-1pm
Jump into Spring with this fun and wet competition for some amazing prizes. See details below.
Sponsored by Nature Valley.
Kids Treasure Dig - 1pm-4pm
Dig for Treasure! Head to the big green chair for your chance to find burrier treasure.
For kids ages 12 and under.
Adult Treasure Hunt - 1pm-4pm
Find the Fanny Packs!! Adults, ages 13 and older, keep your eyes open for 1 of 6 staff members around the resort wearing brightly colored fanny packs. Say hello and request one of their prize tags!
You could win Oakley gear, Helly Hansen Gift Codes, Resort Swag, and more!
Paint the Snow - 1pm-4pm
Come make a colorful creation in the snow with our Snow Painting!
Head over to Rainbow Ridge where you can use squeeze bottles of colored water to create art on the snow. We are using food coloring, so be careful not to get it on your clothes.
Sunday S'Mores - 12pm
Join us by the fire pit for S'Mores. Stop by and enjoy them for free! - Please only take 1 per guest so as many people can enjoy as possible - Limited amount
DJ Brandon - 11am-4pm
Party on the patio with bumpin' tunes by DJ Brandon
Snow Cones - 11am-2pm
Presented by Midwest Adaptive
One of the best ways to enjoy the snow, is to eat it, right? Come by the patio and grab a free snow cone. Midwest Adaptive accepting donations.
We will also have spring leis for everyone to wear. Stop by our Gatorade tent to pick one up along with free Gatorade and Nature Valley bars and snacks.
If you pop inside, make sure to stop by our Retail Shop where beanies, sunglasses, Bula neck gaitors, and Bolle goggles are on clearance!
Staff will be sporting their best spring and luau attire and we invite you to do the same! Come celebrate springtime with us.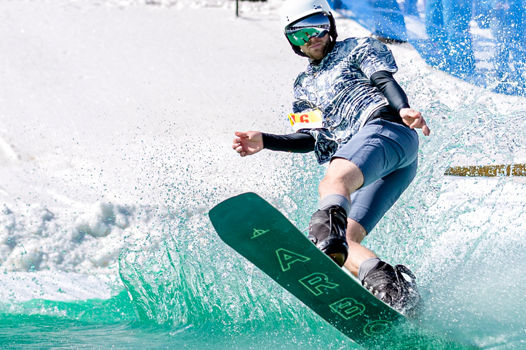 Snow, Sun, & Water!
Slush Cup
Jump into Springtime with the Snow Creek Slush Cup! Come and compete, or join us to watch - just beware of the splash zone. Compete for your chance to win some great prizes. We invite you to bring out your best skill, creative costumes, and a little flair! Sponsored by Nature Valley.
Registration:
Competition Registration is first come-first served.

We will be capping the Slush Cup Competition at 75 participants.

Register at the Competition Registration table on the morning of March 6th.
COST: There is no official cost, but we have a recommended donation of $5 to our Epic Promise Employee Foundation.

Feel free to give more or less. See more about the Epic Promise Employee Foundation below.

All participants must sign a Competition Waiver.

Available to fill out in advance from the link above or on-site the day of the competition.
Competition:
All Ages
Helmets are required to compete

If you do not have a helmet, let registration know and they will provide you one for the competition. An equipment waiver will need to be completed on site.

Location: On the Six Shooter run. Ride up on Tiger Lift
Participants will receive a Slush Cup towel!

Competition Layout

Competitors will get 1 run per round. If they get across, they move to the next round. If they do not, they are disqualified.
Each round competitors will start their runs progressively closer to the Slush Cup pond.
In the final round, if no one makes it across, the winner will be determined by distance across the pond.

Competition Categories & Prizes

Last One Standing (distance)

Oakley Helmet & Goggle set, $150 in Helly Hansen Gift Codes

Best Costume/Flair

Oakley Goggles, $100 in Helly Hansen Gift Codes

Best Wipe Out

Oakley Sunglasses, $50 in Helly Hansen Gift Codes

Employees will also compete in the same 3 categories and be competing to win some awesome Bluetooth speakers!
Schedule:
| | |
| --- | --- |
| Registration | Opening - 10:30am |
| Competitor Meeting | 10:45am |
| Competition | 11am-1pm (end time may vary) |
| Awards | 5-10 minutes following the end of the competition |
Epic Promise Employee Foundation
For our Slush Cup event, we are not requiring any cost, but we invite you to make a donation to our EpicPromise Employee Foundation. Not participating in the event, but still want to donate? Stop by our Ski & Ride School Lobby on the morning of March 13th to help the employees who have helped you all season.
Never heard of the EpicPromise Employee Foundation?
The EpicPromise Employee Foundation supports Vail Resorts employees and their dependents in times of need through emergency financial assistance and educational grants. The Foundation will provide $750,000 annually in employee grants with donations going to employees in need.