The best place to touchdown for fun!
Tornado Alley Tubing Park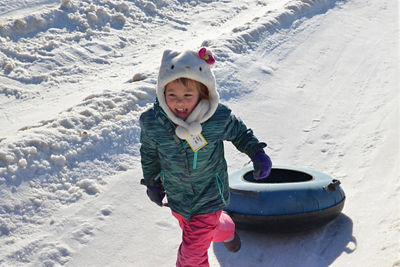 Fun for all ages
Visit us this winter season and bring your family along. Snow tubing is fun for everyone. Imagine sliding down a 700-foot long slope then jumping on a conveyor carpet to take you back to the top.
We provide the tubes - no experience or special equipment is needed - just hop on your tube and enjoy the ride!
*Tubing tickets may sell very quickly on weekends and holidays. Make sure to plan ahead if you plan to come. Must be 42" tall to tube. All tubers must be in individual tubes, lap sitting is not permitted. All tubers must be able to go down the hill unassisted, staff will not be pushing tubes. If the date/time states it is sold out, there are no more tickets for that session.
Pro-Tip!
If products are not showing as available on the selected date. Please select a new date from the calendar dropdown, and then press Update Results to see options for the newly selected date. Check back often as additional slots may become available.

Book Online for the best rates and availability

.
Hours of Operation
Opening and closing times may change throughout the season. For the most up to date information view our Hours of Operation page.
View Current Hours
WINTER ACTIVITY WAIVER
All tubing participants must fill out the winter activity waiver.
If you purchase online, this will be a part of your ticket purchase. If you are purchasing at the ticket window, you will be filling it out in person.
This waiver must be signed by someone who is 18+. The waivers for anyone under the age of 18 must be signed by a parent or guardian who is over 18.