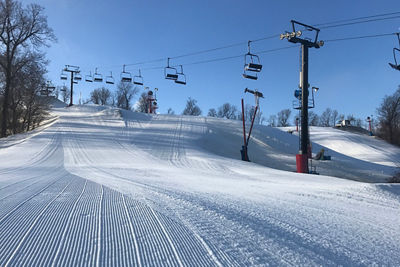 SNOW CREEK SNOWMAKING
Snow Creek has over 60 snowmaking machines with the capacity to pump 3,000 gallons of water per minute, covering 100% of our terrain in as little as 72 hours. As long as temps stay below freezing we can make our own snow, which means we have snow even when you don't.

SNOWMAKING 101
Snowmaking is the production of snow by forcing water and pressurized air through a "snow gun" or "snow cannon", on ski slopes. It is made by relatively large permanent machinery at many ski resorts. The product may be called artificial snow or man-made snow. A snow cannon works by nebulizing water and allowing it to freeze into snow. The device is often used by ski hills and ski resorts to supplement naturally occurring snow and extend the skiing season.

Want to know more about how it all works? Check out this Information Packet. It helps explain snow, the snowmaking process, and what it takes for us to make snow.
Previous tab
Previous tab
Mountain Stats
300 ft. vertical drop.
12 trails: 30% beginner, 60% intermediate, 10% expert (including terrain park)
5 Lifts including 2 Triple Chairlifts, 1 Double Chairlift, 1 Conveyor Carpet, and 1 Rope Tow
2 Terrain Parks: Rattle Snake (expert) and Gunslinger Progression Park (beginner/intermediate)
Ski Lodge & Facilities
10,000 square feet lodge
NEW! Snow Creek Retail Shop
Bar & Lounge
Self- Service Cafeteria and Pizzeria
Inside & outside seating
Restrooms
Ski Patrol First Aid Facility
Ticket Sales
Souvenirs (at Ticket Sales)
Ski School Lesson Center - PSIA Certified, 100+ Instructors
Reception & Group Sales
Rental Building
Houses all rental equipment - skis, snowboards, and helmets
Restrooms available.
1200 sets of shaped skis (250 junior skis), featuring Head's BYS system. Ski Boot sizes ranging Toddler 10 - Adult 16
400 snowboards with strap-in bindings and boots. Snowboard Boot sizes ranging Youth 2 - Adult 14.5
Tube Park Facilities
700 feet long
5+ tube lanes
460 ft. Conveyor Carpet lift
300+ tubes
picnic/viewing area with a bonfire pit
Launching Winter 23/24
Take an Epic expert with you wherever you go on the mountain. My Epic app provides you:
Mobile Pass & Lift ticket
Interactive trail maps, with trail and grooming status
Real-time weather, snow totals and mountain cams
Your on-mountain GPS location and stat tracking
Resort updates and safety information
And more!